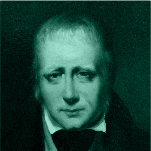 15 August 1771 – 21 September 1832
Sir Walter Scott was born in Edinburgh, Scotland in 1771. Despite the fact that an early illness left him with a lame right leg, he spent much of his youth exploring the Border country and immersing himself in old Scottish ballads and legends. Scott attended Edinburgh High School before studying arts and law at Edinburgh University. He was called to the bar in 1792 and appointed sheriff depute of the county of Selkirk seven years later.
An avid reader and collector of tales, Scott began writing professionally at the age of 25. In 1802-1803 he published his first major work, an idiosyncratic three-volume set of collected ballads entitled The Minstrelsy of the Scottish Border. Two years later he rose to fame as a poet with the publication of The Lay of the Last Minstrel (1805), a huge success which made Scott the most popular author of his day. This was followed by further romantic poems, such as Marmion (1808) and The Lady in the Lake (1810), before Scott turned to writing novels. It was during the 1810s that he produced some of his most enduring works, including the hugely popular historical novels Waverly (1810), Guy Mannering (1815), and Ivanhoe (1819).Scott's productivity didn't wane in the following decade, during which he produced eleven more novels and was made a baronet. His acclaimed biography Life of Napoleon was published in nine volumes in 1827.
In 1826, a banking crisis swept Britain, and Scott's printing business crashed. He spent the rest of his life writing his way out of debt, and took a grand tour of Europe, being welcomed and celebrated wherever he went. He died in 1832, aged 61. He was the first English-language author to have an international career, being popular across Europe and North America, and is regarded as a key figure in the development of Scottish and world literature.