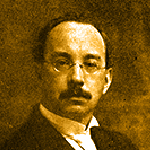 March 6 1864 - April 20 1928
William George Jordan was born on 6 March 1864 in New York City, USA.
He took his university education at the City College of New York and began his literary career as an editor of Book Chat in 1884. After a brief spell (1888-91) editing Current Literature - a magazine offering an eclectic combination of literature review and contemporary commentary, Jordan relocated to Chicago. It was here that he first lectured on his system of Mental Training; although not with any great success.
In 1897 Jordan moved back to New York and was hired as the managing editor for The Ladies Home Journal, after which he moved on to edit The Saturday Evening Post. This substantial editing career is not Jordan's best known achievement however – his essays and thoughts on education and 'mental training' have garnered the most attention.
In July 1891 The Chicago Inter-Ocean printed an interview with Jordan on his 'mental training'. After the article was published he received so many inquiries that he scheduled a long lecture tour on the subject. The Inter-Ocean reported that 'during the past few weeks the calls from Chicago have been so numerous, enthusiastic and positive for lecture courses and private society classes that he has concluded to resign his position in New York and come to Chicago.' In 1894, Jordan published a short pamphlet; Mental Training, A Remedy for Education, which opened with the following lines; 'here are two great things that education should do for the individual—it should train his senses, and teach him to think. Education, as we know it to-day, does not truly do either; it gives the individual only a vast accumulation of facts, unclassified, undigested, and seen in no true relations. Like seeds kept in a box, they may be retained, but they do not grow.'
Jordan's allegorical style was widely utilised in all his works, and he penned his first book, The Kingship of Self-Control, in 1898. This was followed by a further nine texts, all on the subject of self-improvement; a theme which he continued writing on for the rest of his life. The Majesty of Calmness (1900) was perhaps his most popular self-help book.
Despite these successes, Jordan's most influential writing was actually a political tract. In The House of Governors (1907), he aimed to 'promote uniform legislation on vital questions, to conserve states' rights, to lessen centralisation, to secure a fuller, freer voice of the people and to make a stronger nation.' The work was circulated to each state governor and to President Theodore Roosevelt, and was incredibly well received. His ideas were put into practice and the first 'meeting of the governors' was held in Washington, on 18 January, 1910 – with Jordan as its secretary. He was dropped as secretary a year later, but nevertheless, this group is a key part of his legacy.
At the age of fifty-eight, Jordan married Nellie Blanche Mitchell, in New York City at the Grace Episcopal Church. The marriage was a happy one, for the short time it lasted, but sadly Jordan died just six years later of pneumonia on 20 April 1928, at his home in New York.
Books of William George Jordan