The Secret Garden is a beautifully written, endearing children's novel by American author Frances Hodgson Burnett. First published in 1911, this charming tale has warmed the hearts of readers since its release over a hundred years ago. It's not just the beautiful writing, imagery and themes that make us love this book so much. It's quite simply filled with its own innocent magic. In celebration of this true children's classic, we've had a look at the story of The Secret Garden and the lady behind it.
"I am sure there is Magic in everything, only we have not sense enough to get hold of it and make it do things for us"

Frances Hodgson Burnett – The Secret Garden
---
The Story
The story follows a young orphan named Mary Lennox and a sickly boy who become unlikely friends.
After her parents die, Mary is sent from India to live with her uncle in a manor house in Yorkshire. Left by her self-involved parents to be raised by their servants, she arrives in England as an aggressive, rude and petulant young girl. 
As she relaxes and warms to her new home, she explores her new surroundings, learning of a forgotten walled garden within the grounds, of which the key is said to be buried but lost.

This mystery piques the interest of Mary, and so with her new friend, a Robin, they discover the key buried in the soil, and then the following day they find the hidden door to the secret garden.
Her discoveries do not stop there though, as shortly afterwards, she finds a sickly young boy in a hidden room within the mansion. Colin, who she finds out is her cousin, is bed-bound due to a spinal injury which means that he cannot walk. The pair become the most unlikely of friends, tied together by interest and love for the secret garden.
Mary manages to get Colin down into the secret garden, and along with a local boy Dickon and their collection of animal friends, they begin to resurrect what was lost for so long. Tending to the garden and planting flowers, they spend every day there amongst nature.
Mary's temperament improves over time, and Colin finds himself beginning to heal, and is eventually able to walk and run.
---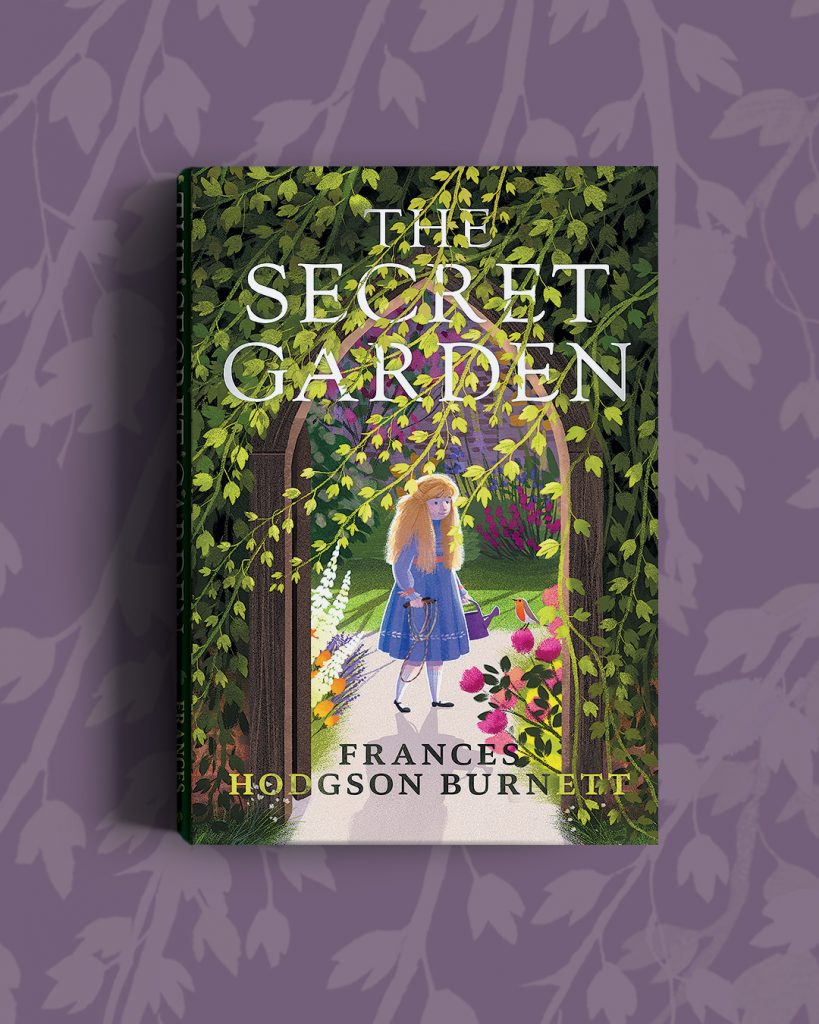 'A sudden thought made her scramble to her feet.

"I can't wait! I am going to see the garden!"

She had learned to dress herself by this time and she put on her clothes in five minutes. She knew a small side door which she could unbolt herself and she flew down-stairs in her stocking feet and put on her shoes in the hall. She unchained and unbolted and unlocked and when the door was open she sprang across the step with one bound, and there she was standing on the grass, which seemed to have turned green, and with the sun pouring down on her and warm sweet wafts about her and the fluting and twittering and singing coming from every bush and tree. She clasped her hands for pure joy and looked up in the sky and it was so blue and pink and pearly and white and flooded with springtime light that she felt as if she must flute and sing aloud herself and knew that thrushes and robins and skylarks could not possibly help it. She ran around the shrubs and paths toward the secret garden.'

Frances Hodgson Burnett – The Secret Garden
---
Story Themes
The most obvious motif within this wonderful tale is that of the rejuvenating qualities of nature.
Burnett demonstrated this in the revival and miraculous changes of Mary's sullen character, and Colin's terrible illness. Much like the blooming garden, by the end of the novel, they are transformed into happy and healthy children.
"The big breaths of rough fresh air blown over the heather filled her lungs with something which was good for her whole thin body and whipped some red color into her cheeks and brightened her dull eyes"

Frances Hodgson Burnett – The Secret Garden
The author, Frances Hodgson Burnett, was influenced by Mary Baker Eddy's Christian Science Movement, which applied the idea that exists an innate healing power in all living things.
Joined by nature, the friendship between the young children in the story is a strong theme throughout. Mary, Colin and Dickon, along with their menagerie of animal companions, are so taken with the garden and their blossoming friendship, that their concerns – or contrariness in Mary's case – take a back seat. They become normal, healthy children, full of dreams and the joy of life.
"she began to like to be with him, she wanted to discover whether he was the kind of boy you could tell a secret to."

Frances Hodgson Burnett – The Secret Garden
Frances Hodgson Burnett
The daughter of an ironmonger, Frances Hodgson Burnett was born in Manchester, in 1849. Her father died when she was still young, and after struggling financially for years, the family relocated to Knoxville, Tennessee in 1865. It was here that she began her writing.

Her successful career as a novelist, playwright and children's author saw her work in various publications like Harpers Bazaar, and Scribner's monthly. Her first adult novel That Lass o'Lowries was well received and sold well in the UK. Her writing showed no sign of slowing down, publishing Louisiana in 1880, A Fair Barbarian in 1881, and Through One Administration in 1883.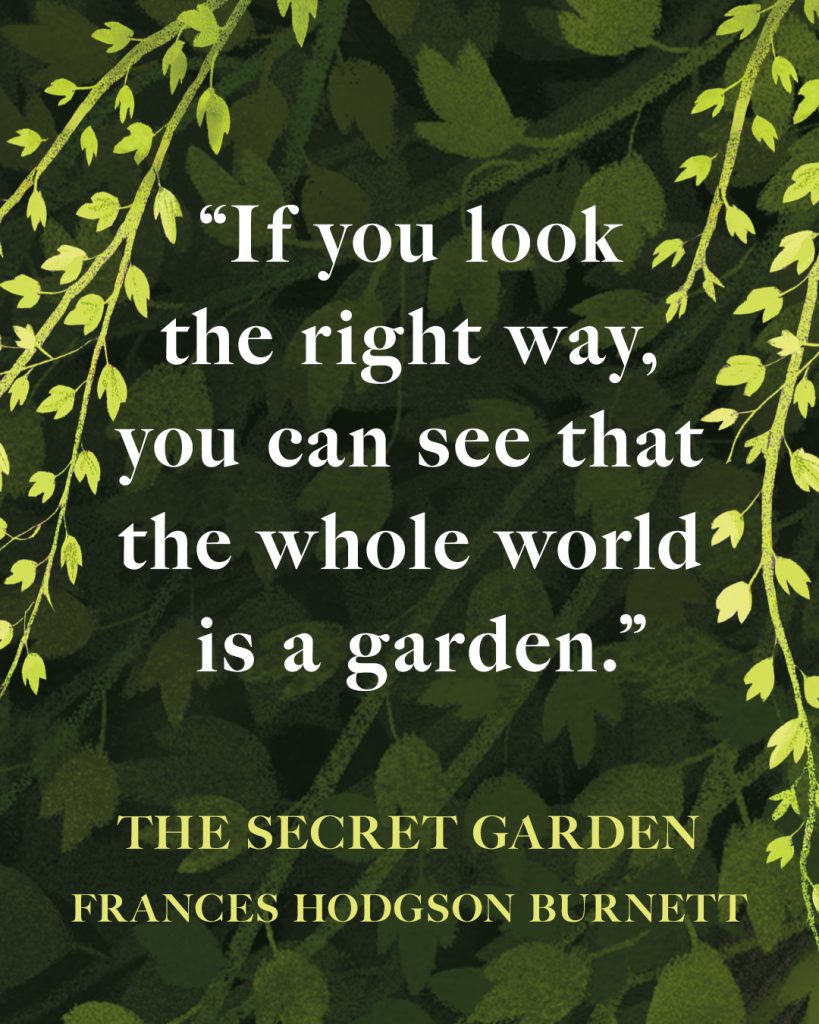 After the success of her earlier works, Burnett turned her hand to writing for children after meeting children's authors Mary Mapes Dodge and Louisa May Alcott. Her breakthrough children's book, Little Lord Fauntleroy was a bestseller in the US and internationally.
Following a turbulent life of losing her eldest son to consumption, spells of depression, physical deterioration and divorce, she moved back and forth between Britain and the US multiple times over the years.
She was living in Maytham, England when she wrote The Secret Garden, inspired by its beautiful, walled gardens.
Her story was published as a serial in The American Magazine in 1911. She followed this beautiful children's book with The Lost Prince in 1915 and both The Head of the House of Coombe and its sequel, Robin, in 1922.
She died in her Long Island, New York home, in 1924.
You can read a full biography of Frances Hodgson Burnett here.
---
Loved this post? Say it with a pin!