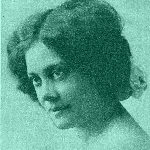 19 July 1875 - 18 September 1935
Alice Ruth Moore Dunbar Nelson was born in New Orleans, USA in 1875. Among the first generation of African-Americans born free in the South after the Civil War, she attended college and graduated from Straight University (now Dillard University) in 1892.
After graduating, she started work as a teacher in the public school system of New Orleans. In 1895 Nelson's first collection of short stories and poems, Violets and Other Tales, was published by The Monthly Review. Around that time, Moore moved to New York, where she co-founded and taught at the White Rose Mission in Brooklyn. Beginning a correspondence with the poet and publisher Paul Dunbar, she eventually married him in 1898, and moved into a house with him in Washington D.C.
She and Paul Dunbar separated in 1902 – reputedly because of her lesbian affairs – and Dunbar died four years later. Alice Dunbar then moved to Wilmington, Delaware and taught at Howard High School for more than a decade. In 1910 she married Henry A. Callis, a prominent physician and professor at Howard University, but this marriage ended in divorce.
From 1913 to 1914, Dunbar was coeditor and writer for the A.M.E. Review, an influential church publication produced by the African Methodist Episcopal Church (AME Church). In 1916, she married the poet and civil rights activist Robert J. Nelson, and joined him in becoming active in politics in Wilmington and the region. They stayed together for the rest of their lives. From 1920, she coedited the Wilmington Advocate, a progressive African-American newspaper. She also published The Dunbar Speaker and Entertainer, a literary anthology for an African-American audience.
During the twenties and thirties, Alice Dunbar Nelson was a prominent activist for African Americans' and women's rights. While she continued to write stories and poetry, she became more politically active in Wilmington, and put more effort into numerous articles and journalism on leading topics. In 1915, Nelson was field organizer for the Middle Atlantic states for the woman's suffrage movement. In 1918, she was field representative for the Woman's Committee of the Council of Defense, and six years later she campaigned for the passage of the Dyer Anti-Lynching Bill.
Over the course of her life, Nelson published more than fifteen collections of short stories and poetry, and numerous political articles. She was arguably the most prominent figure in the early artistic flourishing of the Harlem Renaissance. Nelson died in  1935, aged 60.
Books of Alice Dunbar Nelson