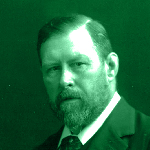 8 November 1847 – 20 April 1912
Abraham 'Bram' Stoker was born in Dublin, Ireland in 1847. Stoker was a semi-invalid as a child, and was bedridden until he started school at the age of seven. However, he made a full recovery and went on to excel as an athlete at Trinity College, which he enrolled at in 1864. Stoker graduated with honours in mathematics in 1870, and was also president of the university's philosophical society.
Stoker developed an interest in theatre, and became theatre critic for the Dublin Evening Mail in his early twenties. It was following a favourable review he gave of an 1876 Henry Irving production of Hamlet that Stoker and Irving struck up a friendship. Three years later, in the same year that Stoker married Florence Balcombe (whose former suitor was Oscar Wilde), he became acting-manager and then business manager of Irving's Lyceum Theatre – a post he went on to hold for 27 years. As a result of his close friendship with Irving (the most famous actor of his day), Stoker became something of a socialite. He mingled with London's high society, meeting writers such as Sir Arthur Conan Doyle, and travelled extensively in the United States, where he spent time with both Theodore Roosevelt and Walt Whitman.
While working for Irving, Stoker began to write novels, eventually producing a total of fifteen works of fiction. Although most met with at least mild success, Stoker is best known for his 1897 publication, Dracula. This work – an epistolary novel weaving hypnotism, magic, the supernatural, and other elements of Gothic fiction – went on to sell over one million copies, and has never been out of print. Today, the novel and its eponymous protagonist remain so well-known that one can actually visit the castle of Count Dracula in the Transylvanian region of Romania – despite the fact that Stoker never even went there himself.
After a series of strokes, Stoker died in London in 1912, aged 64.