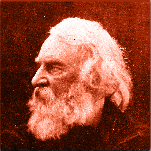 February 27 1807 – March 24 1882
Henry Wadsworth Longfellow was born in Portland, Maine on February 27th, 1807. His mother, Zilpah Wadsworth, was the daughter of a Revolutionary War hero and his father, Stephen Longfellow, was a prominent Portland lawyer and later a member of Congress. As a young man, Longfellow was a voracious reader, and after graduating from Bowdoin College, Longfellow studied modern languages in Europe for three years, before returning returned to Bowdoin to teach them.
In 1831 Longfellow published his first book, a description of his European travels, titled Overseas. He spent a year in Germany and Switzerland, stricken with grief following the death of his young wife, before taking a position at Harvard in 1836. Over the next five years, he published his first two collection of poems, Voices of the Night (1839) and Ballads and Other Poems (1841). Many of the poems featured people triumphing over adversity, a theme which chimed with a still-young United States of America.
In 1843, Longfellow remarried, ushering in the happiest eighteen years of his life. Over the following few years, he penned Evangeline (1847), a book-length poem which proved extremely popular, and secured his reputation as the finest living American poet. In 1854, Longfellow decided to quit teaching to devote all his time to poetry. He published Hiawatha (1855), a long poem about Native American life, and The Courtship of Miles Standish and Other Poems (1858). Both books were immensely successful.
A few months after the American Civil War began in 1861, Longfellow's wife perished. Profoundly saddened, Longfellow published nothing for the next two years. He found comfort in reading Dante's Divine Comedy (and would later produce its first American translation). Tales of a Wayside Inn was published in 1863, consolidating further his reputation.  When the Civil War ended in 1865, the poet was 58. His most important work was behind him, but he was by now the most famous American of his day. His admirers included Abraham Lincoln, Charles Dickens, and Charles Baudelaire. From 1866 to 1880, Longfellow published seven more books of poetry, and his seventy-fifth birthday in 1882 was celebrated across the country. His health was deteriorating though, and he died the following month, aged 75. Although in more recent times Longfellow's reputation has declined, he remains an important literary figure in the American popular imagination.
Books of Henry Wadsworth Longfellow