These ten classic poems encompass all the magic of Christmas and the colder months, written by some of the greatest poets of the 19th and 20th centuries. Featuring classic winter poetry from the likes of Emily Dickinson to William Butler Yeats, these ten short Christmas poems are perfect for reading over the holidays.
---
Before the ice is in the pools,
Before the skaters go,
Or any cheek at nightfall
Is tarnished by the snow,
Before the fields have finished,
Before the Christmas tree,
Wonder upon wonder
Will arrive to me!
What we touch the hems of
On a summer's day;
What is only walking
Just a bridge away;
That which sings so, speaks so,
When there's no one here,—
Will the frock I wept in
Answer me to wear?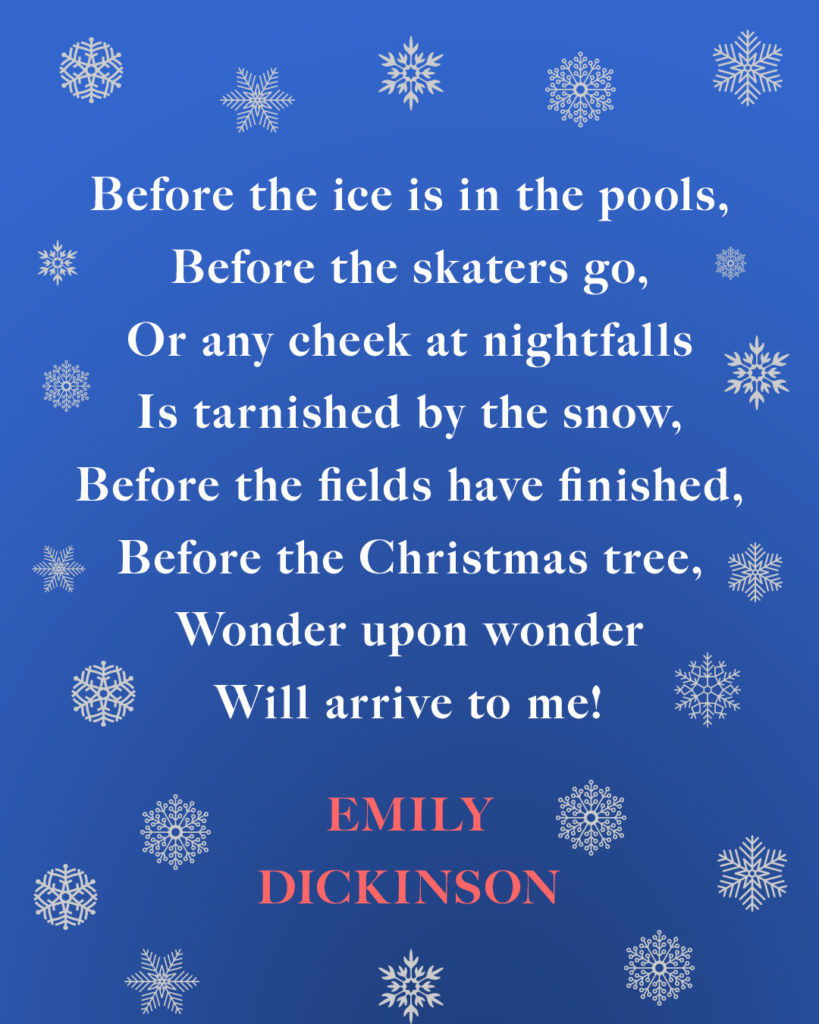 Christmas Eve, and twelve of the clock.
"Now they are all on their knees,"
An elder said as we sat in a flock
By the embers in hearthside ease.
We pictured the meek mild creatures where
They dwelt in their strawy pen,
Nor did it occur to one of us there
To doubt they were kneeling then.
So fair a fancy few would weave
In these years! Yet, I feel,
If someone said on Christmas Eve,
"Come; see the oxen kneel,
"In the lonely barton by yonder coomb
Our childhood used to know,"
I should go with him in the gloom,
Hoping it might be so.
But give me holly, bold and jolly,
Honest, prickly, shining holly;
Pluck me holly leaf and berry
For the day when I make merry.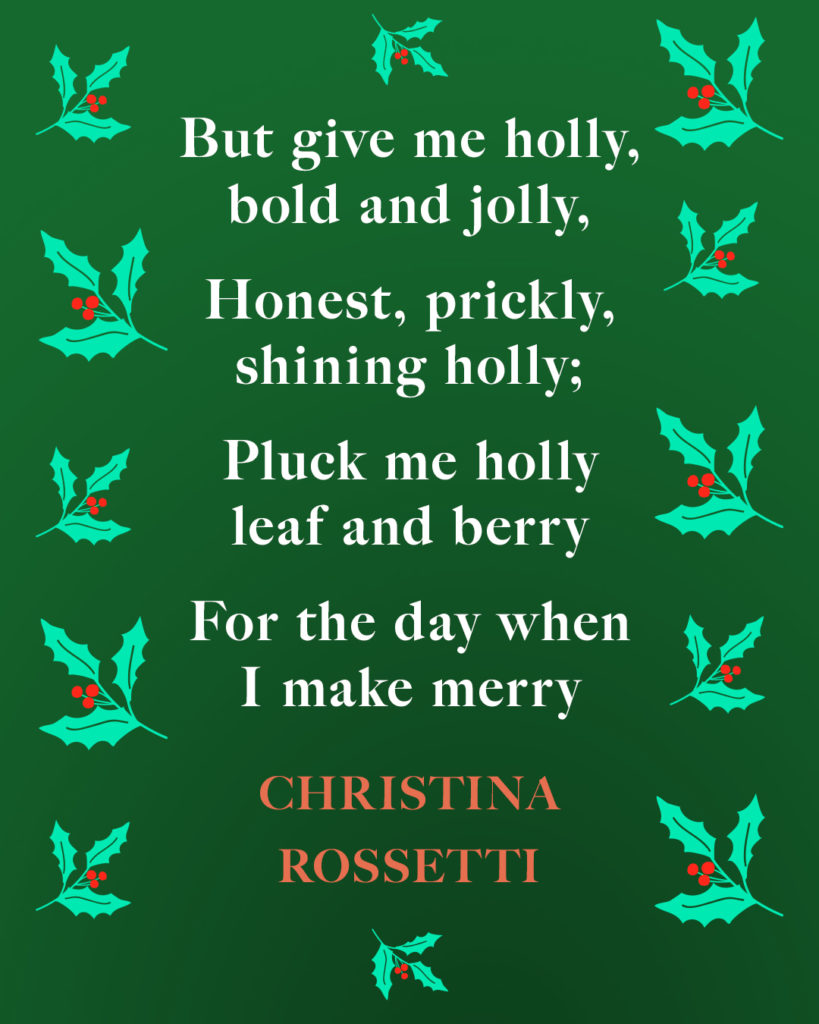 Out of the bosom of the Air,
Out of the cloud-folds of her garments shaken,
Over the woodlands brown and bare,
Over the harvest-fields forsaken,
Silent, and soft, and slow
Descends the snow.
Even as our cloudy fancies take
Suddenly shape in some divine expression,
Even as the troubled heart doth make
In the white countenance confession,
The troubled sky reveals
The grief it feels.
This is the poem of the air,
Slowly in silent syllables recorded;
This is the secret of despair,
Long in its cloudy bosom hoarded,
Now whispered and revealed
To wood and field.
Love came down at Christmas,
Love all lovely, love divine;
Love was born at Christmas,
Star and angels gave the sign.
Worship we the Godhead,
Love incarnate, love divine;
Worship we our Jesus:
But wherewith for sacred sign?
Love shall be our token,
Love shall be yours and love be mine,
Love to God and to all men,
Love for plea and gift and sign.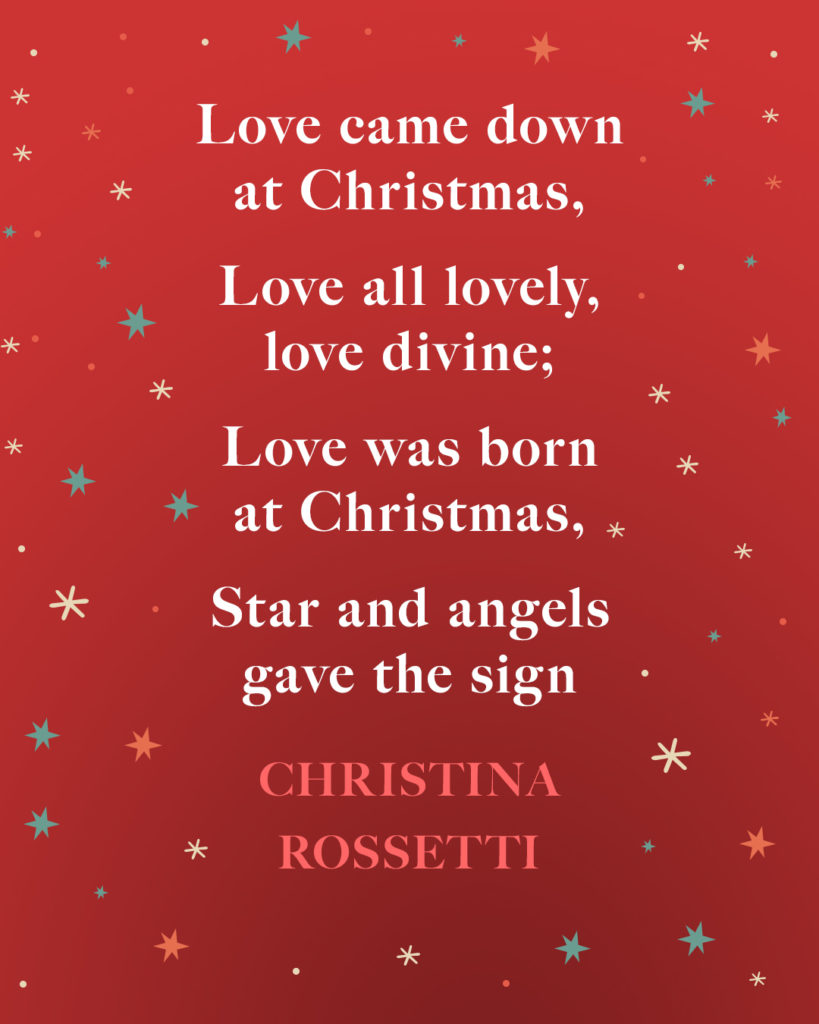 As I in hoary winter's night stood shivering in the snow,
Surpris'd I was with sudden heat which made my heart to glow;
And lifting up a fearful eye to view what fire was near,
A pretty Babe all burning bright did in the air appear;
Who, scorched with excessive heat, such floods of tears did shed
As though his floods should quench his flames which with his tears were fed.
"Alas!" quoth he, "but newly born, in fiery heats I fry,
Yet none approach to warm their hearts or feel my fire but I!
My faultless breast the furnace is, the fuel wounding thorns,
Love is the fire, and sighs the smoke, the ashes shame and scorns;
The fuel Justice layeth on, and Mercy blows the coals,
The metal in this furnace wrought are men's defiled souls,
For which, as now on fire I am to work them to their good,
So will I melt into a bath to wash them in my blood."
With this he vanish'd out of sight and swiftly shrunk away,
And straight I called unto mind that it was Christmas day.
Hear the sledges with the bells—
Silver bells!
What a world of merriment their melody foretells!
How they tinkle, tinkle, tinkle,
In the icy air of night!
While the stars that oversprinkle
All the heavens, seem to twinkle
With a crystalline delight;
Keeping time, time, time,
In a sort of Runic rhyme,
To the tintinabulation that so musically wells
From the bells, bells, bells, bells,
Bells, bells, bells—
From the jingling and the tinkling of the bells.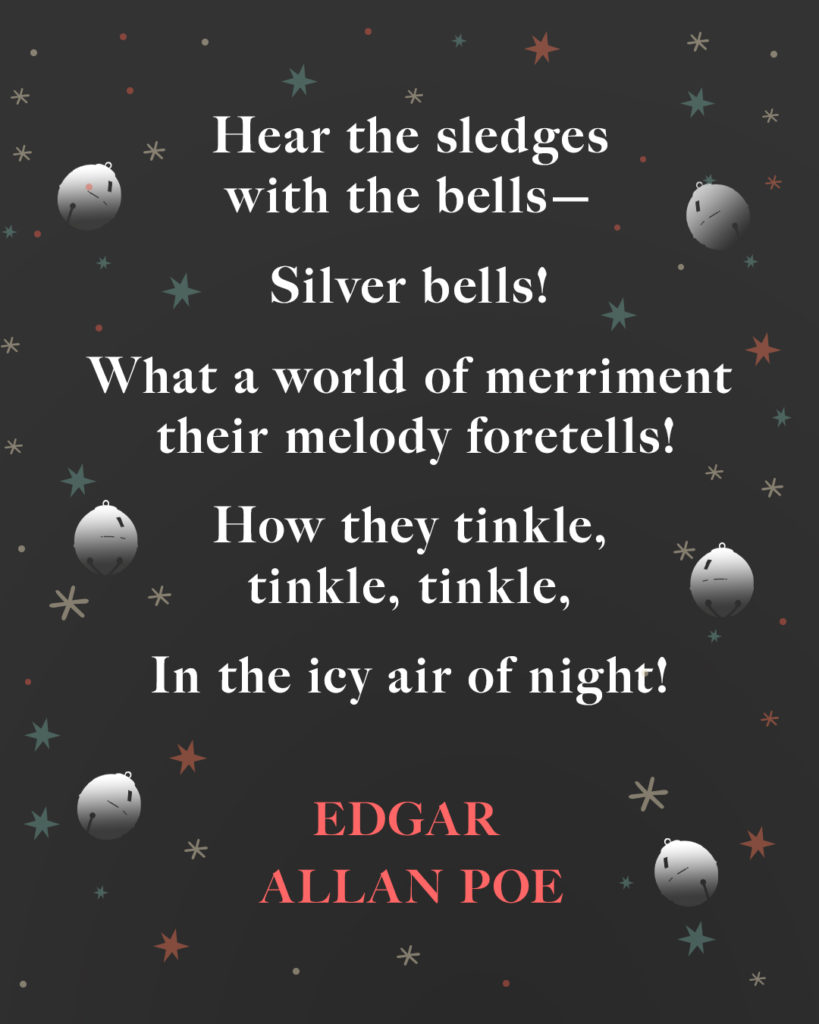 Sitting under the mistletoe
(Pale-green, fairy mistletoe),
One last candle burning low,
All the sleepy dancers gone,
Just one candle burning on,
Shadows lurking everywhere:
Some one came, and kissed me there.
Tired I was; my head would go
Nodding under the mistletoe
(Pale-green, fairy mistletoe),
No footsteps came, no voice, but only,
Just as I sat there, sleepy, lonely,
Stooped in the still and shadowy air
Lips unseen—and kissed me there.
Late lies the wintry sun a-bed,
A frosty, fiery sleepy-head;
Blinks but an hour or two; and then,
A blood-red orange, sets again.
Before the stars have left the skies,
At morning in the dark I rise;
And shivering in my nakedness,
By the cold candle, bathe and dress.
Close by the jolly fire I sit
To warm my frozen bones a bit;
Or with a reindeer-sled, explore
The colder countries round the door.
When to go out, my nurse doth wrap
Me in my comforter and cap;
The cold wind burns my face, and blows
Its frosty pepper up my nose.
Black are my steps on silver sod;
Thick blows my frosty breath abroad;
And tree and house, and hill and lake,
Are frosted like a wedding-cake.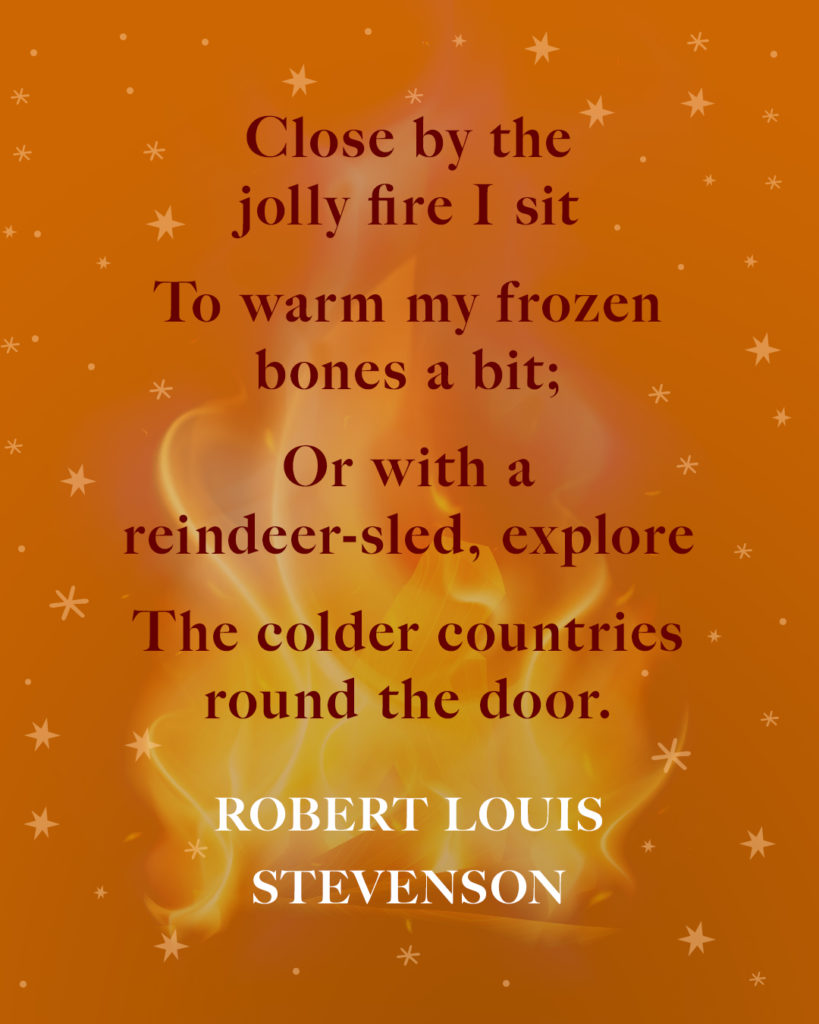 Christmas hath a darkness
Brighter than the blazing noon,
Christmas hath a chillness
Warmer than the heat of June,
Christmas hath a beauty
Lovelier than the world can show:
For Christmas bringeth Jesus,
Brought for us so low.
Earth, strike up your music,
Birds that sing and bells that ring;
Heaven hath answering music
For all Angels soon to sing:
Earth, put on your whitest
Bridal robe of spotless snow:
For Christmas bringeth Jesus,
Brought for us so low.
---
If you enjoyed this collection of short Christmas poems, why not explore these longer Christmas poems to read:
---

---
Loved this post? Say it with a pin!