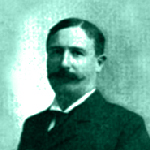 1856 – 11 December 1918
Willis George Emerson was born in 1856, and spent his early education at Knox College, Illinois, USA. He later attended Northern Ohio University, after which he was admitted to the bar in 1886. Emerson quickly lost interest in the legal profession however, and moved to Kansas where he became heavily involved in politics; actively campaigning on behalf of the Republican Party in both the 1888 and 1900 elections.
Emerson is best known as a prominent American novelist, and is famed for his evocative tales of the Mid-West. Among his better-known novels are Buell Hampton (1902), The Builders (1906), Smoky God vs. Voyage in the Inner World (1908), The Treasure of Hidden Valley (1915) and The Man Who Discovered Himself (1919). Smoky God vs. Voyage in the Inner World is particularly notable for its unusual plotline; the protagonist discovers an Eden like civilisation in in the centre of the earth, where a scientifically advanced race of long-lived giants is discovered worshipping a 'smoky God' – the interior sun. This was the first literary work to bring Emerson widespread acclaim.
A man of many talents and interests, Emerson also worked as a newspaperman, lawyer, politician and promoter, forming the North American Copper Company in Wyoming. Emerson is also credited with founding the town of Grand Encampment, a municipality in Carbon County, Wyoming. With Emerson's Copper Company based there, it became a booming centre of copper mining and smelting.  A sixteen-mile tramway was built to carry copper ore from the mountains into the town for smelting; a tramway which was, at the time, the longest in the world.
He died on 11 December, 1918.
Books of Willis George Emerson