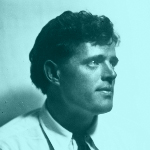 January 12 1876 – November 22 1916
Jack London was born in San Francisco, USA in 1876.  In order to support his working class family, he left school at the age of fourteen and worked in a string of unskilled jobs, before returning briefly to graduate.  Around this time, London discovered the public library in Oakland, and immersed himself in the literature of the day.
In 1894, after a spell working on merchant ships, he set out to experience the life of the homeless, with a view to gaining an insight into the national class system and the raw essence of the human condition. At the age of nineteen, upon returning, London was admitted to the University of California in Berkeley, but left before graduating after just six months due to financial pressures.
London published his first short story, Typhoon off the Coast of Japan, in 1893.  At this point, he turned seriously to writing, producing work at a prolific rate.  Over the next decade, he began to be published in major magazines of the day, producing some of his best-remembered stories, such as To Build a Fire.  Starting in 1902, London turned to novels,  producing almost twenty in fifteen years.  Of these, his best-known are Call of the Wild and White Fang, both set during the Klondike Gold Rush.  He also produced a number of popular and still widely-anthologized stories, such as An Odyssey of the North and Love of Life.  London even proved himself as an excellent journalist, reporting on the 1906 earthquake in San Francisco and the Mexican Revolution of 1910.
London was an impassioned advocate of socialism and workers' rights, and these themes inform a number of his works – most notably his dystopian novel The Iron Heel, published in 1907.  He even ran unsuccessfully as the Socialist nominee for mayor of Oakland on two occasions.  London died in 1916, aged 40.