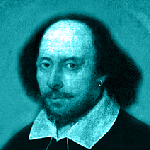 April 1564 - 23 April 1616
William Shakespeare, as any reader of this book will presumably know, was an English poet, playwright and actor, widely regarded as the greatest writer in the English language - and the world's pre-eminent dramatist. His plays have been translated into every major living language and are performed more often than those of any other playwright. Referred to as England's national poet, and the 'Bard of Avon', his extant works, including some collaborations, consist of about 38 plays, 154 sonnets, two long narrative poems, and a few other verses, (some with unconfirmed authorship). Few records of Shakespeare's private life survive, and there has been considerable speculation about matters as wide ranging as his physical appearance, sexuality and religious beliefs.
William Shakespeare was the son of John Shakespeare, an alderman and a successful glover originally from Snitterfield, and Mary Arden, the daughter of an affluent landowning farmer. He was born in Stratford-upon-Avon and baptised there on 26th April 1564. His actual date of birth remains unknown, but is traditionally observed on 23rd April, Saint George's Day. Although no attendance records for the period survive, biographers agree that Shakespeare was probably educated at the King's New School in Stratford, a free school chartered in 1553, about a quarter-mile from his home. Grammar schools varied in quality during the Elizabethan era, but grammar school curricula were largely similar. Basic Latin education had been standardised by royal decree, and the school would have provided an intensive education in grammar based upon Latin classical authors.
At the age of eighteen, Shakespeare married the twenty-six year old Anne Hathaway (who was pregnant at the time), with whom he had three children: Susanna, and twins, Hamnet and Judith. After the birth of the twins, Shakespeare left few historical traces until he is mentioned as part of the London theatre scene in 1592. The exception is the appearance of his name in the 'complaints bill' of a law case before the Queen's Bench court at Westminster, dated Michaelmas Term 1588 and 9th October 1589. Between 1585 and 1592, he began a successful career in London as an actor, writer, and part-owner of a playing company called the Lord Chamberlain's Men, later known as the King's Men. By 1598, his name had become enough of a selling point to appear on the title pages.
Shakespeare continued to act in his own and in other plays after his success as a playwright. The 1616 edition of Ben Jonson's Works names him on the cast lists for Every Man in His Humour (1598) and Sejanus His Fall (1603). During this time, Shakespeare divided his time between London and Stratford, and in 1596 bought 'New Place' as his family home in Stratford, whilst retaining a property in Bishopsgate, North of the river Thames. He moved across the river to Southwark by 1599, the year his company constructed the Globe Theatre there. By 1604, Shakespeare had moved north of the river again, to an area north of St Paul's Cathedral with many fine houses. He appears to have retired to Stratford around 1613 at the age of forty-nine, where he died three years later.
Shakespeare produced most of his known work between 1589 and 1613. His early plays were mainly comedies and histories, genres he raised to the peak of sophistication and artistry by the end of the sixteenth century. The first recorded works of Shakespeare are Richard III and the three parts of Henry VI, written in the early 1590s during a vogue for historical drama. Shakespeare's plays are difficult to date however, and studies of the texts suggest that Titus Andronicus, The Comedy of Errors, The Taming of the Shrew and The Two Gentlemen of Verona may also belong to Shakespeare's earliest period. Shakespeare's early classical and Italianate comedies, containing tight double plots and precise comic sequences, give way in the mid-1590s to the romantic atmosphere of his greatest comedies. A Midsummer Night's Dream, one of his earliest comedies, is a witty mixture of romance, fairy magic, and comic lowlife scenes. The wit and wordplay of Much Ado About Nothing, the charming rural setting of As You Like It, and the lively merrymaking of Twelfth Night complete the sequence of great comedies.
Shakespeare then wrote mainly tragedies until about 1608. Many critics believe that his greatest tragedies represent the peak of his art. The titular hero of one of Shakespeare's most famous tragedies, Hamlet, has probably been discussed more than any other character, especially for his famous soliloquy beginning; 'To be or not to be; that is the question.' Unlike the introverted Hamlet, whose fatal flaw is hesitation, the heroes of the tragedies that followed, Othello and King Lear, are undone by hasty errors of judgement. In Othello, the villain Iago stokes Othello's sexual jealousy to the point where he murders the innocent wife who loves him. In King Lear, the old king commits the tragic error of giving up his powers, initiating the events which lead to the torture and blinding of the Earl of Gloucester and the murder of Lear's youngest daughter Cordelia. According to the critic Frank Kermode, 'the play-offers neither its good characters nor its audience any relief from its cruelty.' In Macbeth, the shortest and most compressed of Shakespeare's tragedies, uncontrollable ambition incites Macbeth and his wife, Lady Macbeth, to murder the rightful king and usurp the throne, until their own guilt destroys them in turn. His last major tragedies, Antony and Cleopatra and Coriolanus, contain some of Shakespeare's finest poetry.
Many of Shakespeare's plays were published in editions of varying quality and accuracy during his lifetime. His sonnets were published as a collection in 1609. Scholars are not certain when each of the 154 sonnets was composed, but evidence suggests that Shakespeare wrote poetry throughout his career for a private readership. In 1623, John Heminges and Henry Condell, two friends and fellow actors of Shakespeare, published the First Folio, a collected edition of his dramatic works that included all but two of the plays now recognised as Shakespeare's. It was prefaced with a poem by Ben Jonson, in which Shakespeare is hailed, presciently, as 'not of an age, but for all time.' Shakespeare was a respected poet and playwright in his own day, but his reputation did not rise to its present heights until the nineteenth century. The Romantics, in particular, acclaimed Shakespeare's genius, and the Victorians worshipped Shakespeare with a reverence that George Bernard Shaw called 'bardolatry'. His plays remain immensely popular and are constantly studied, performed, and reinterpreted in diverse cultural and political contexts throughout the world.
Shakespeare died on 23rd April 1616 and was survived by his wife and two daughters. He was buried in the chancel of the Holy Trinity Church (Stratford-upon-Avon) two days after his death, with a curse against moving his bones. The epitaph on his gravestone reads:
Good friend, for Jesus' sake forbear,
To dig the dust enclosed here.
Blessed be the man that spares these stones,
And cursed be he that moves my bones. 
Books of William Shakespeare