'HERE'S a wonderful thing,
A humming-bird's wing
In hammered gold,
And store well-chosen
Of snowflakes frozen
In crystal cold.
Black onyx cherries
And mistletoe berries
Of chrysoprase,
Jade buds, tight shut,
All carven and cut
In intricate ways.
Here, if you please
Are little gilt bees
In amber drops
Which look like honey,
Translucent and sunny,
From clover-tops.
Here's an elfin girl
Of mother-of-pearl
And moonshine made,
With tortoise-shell hair
Both dusky and fair
In its light and shade.
Here's lacquer laid thin,
Like a scarlet skin
On an ivory fruit;
And a filigree frost
Of frail notes lost
From a fairy lute.
Here's a turquoise chain
Of sun-shower rain
To wear if you wish;
And glittering green
With aquamarine,
A silvery fish.
Here are pearls all strung
On a thread among
Pretty pink shells;
And bubbles blown
From the opal stone
Which ring like bells.
Touch them and take them,
But do not break them!
Beneath your hand
They will wither like foam
If you carry them home
Out of fairy-land.
O, they never can last
Though you hide them fast
From moth and from rust;
In your monstrous day
They will crumble away
Into quicksilver dust.
---
Elinor Morton Wylie (1885–1928) was an American novelist and poet famous during the 1920s and 1930s.
Born in Somerville, New Jersey, into a family of high social standing, she was trained in the life of a debutante and society wife. She rebelled against the path that was chosen for her and became notorious in her time for her numerous marriages and affairs – her life became one of scandal.
She published much of her early work independently and anonymously until she was persuaded by her literary friends to submit some of her work to Poetry magazine. Four were published, including her most anthologised poem, Velvet Shoes.
This poem, taken from her 1921 book, Nets to Catch the Wind, is among many in the collection considered to be her best work.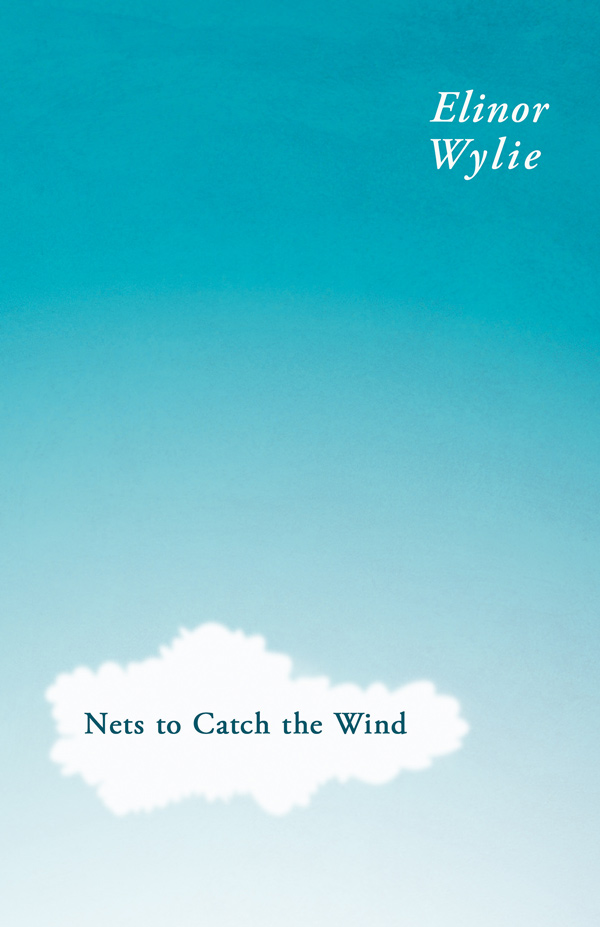 Nets to Catch the Wind is a 1921 collection of poetry by Elinor Morton Wylie. The poems include: "Beauty", "The Eagle And The Mole", "Madman's Song", "The Prinkin' Leddie", "August", "The Crooked Stick", "Atavism", "Wild Peaches", "Sanctuary", "The Lion And The Lamb", etc.
---
To get monthly poems from the likes of William Wordsworth, Emily Dickinson, Sarojini Naidu and many more sent to your inbox, sign-up to our newsletter below.