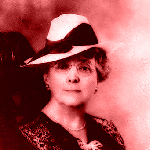 November 30 1874 – April 24 1942
Lucy Maud Montgomery was born in Clifton (now New London), Prince Edward Island, Canada in 1874. Her upbringing was both idyllic and devoutly religious,   and from the age of six she attended the Cavendish Schoolhouse. A voracious reader, as a girl, Montgomery became enthralled by Hans Christian Andersen's Fairy Tales, John Bunyan's Pilgrim's Progress (1678) and Charles Dickens's Pickwick Papers (1836)
In 1889, at the age of fifteen, Montgomery had a poem published in the newspaper, the Patriot. Four years later, she became a teacher, and in 1895 sold her first short story for five dollars. Three years later, Montgomery took a position with the Halifax Chronicle's evening edition, Daily Echo, as proof reader and writer. She worked long hours, often only finding the time and energy to do her own writing in the early mornings before work.
In 1908, Montgomery published her most famous work: Anne of Green Gables. Now considered a classic of children's literature, the novel has now sold more than 50 million copies and been translated into twenty languages.
Montgomery went on to publish twenty novels – including seven more as part of the Anne of Green Gables series – as well as around 500 short stories and poems. Throughout the early part of the 20th century she was one of the most popular authors in the world. In 1923, she became the first Canadian woman to join the Royal Society of Arts in Britain. In 1935, she was  awarded Officer of the Order of the British Empire.
Despite all the accolades, by the depression of the thirties, Montgomery's professional and personal life was suffering. Her work had stopped selling, and she began to suffer from mental health issues. In 1938, she suffered a nervous breakdown, and would remain on medication for the rest of her life. Montgomery committed suicide in 1942, aged 67
Books of Lucy Maud Montgomery